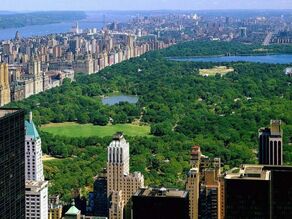 Central Park is a shady oasis in the middle of Manhattan that most tourists and locals frequent to get away from the hustle and bustle of every day life. The park is a historic landmark and its creation was first started in 1857. It now consists of 843 acres of land that is 2.5 miles long between 59th street and 110th street.

Many events take place within the park from large concerts and Shakespeare in the Park theatrical events, to smaller communal gatherings of tai-chi and yoga demonstrations and festivals. Central Park houses the Central Park zoo, which is rather small in size, but littered with much history. There are multiple restaurants in the park as well, such as the well known Tavern on the Green. When the weather becomes warmer and seasonal, horse drawn buggies are usually spotted around Central Park South, near the zoo, and people are able to take carriage rides within the park for a fee. When the weather cools down, Wollman's ice skating rink opens to the public (which converts to a swimming pool in the summer).

Visitors will find various activities here, such as bird watching - where you can even spot wild hawks and bald eagles if you're lucky, rock climbing, renting rowboats at Loeb Boathouse to use in the lake, visiting the carousel, various strewn playgrounds to visit, and other events. Musicians, street artists, and street vendors that sell mostly art and other goods usually line the outer borders of the park and other areas inside. Also in the park are multiple gems of old sculptures and statues that are dedicated to many different people and places such as Alice in Wonderland, Christopher Columbus, William Shakespeare, and Balto.

Lining the outside of the park's length are various cultural destinations such as the Museum of Modern Art, the Guggenheim Museum, Lincoln Center, and the American Museum of Natural History.
Scenes Set in Central Park
Edit
Community content is available under
CC-BY-SA
unless otherwise noted.