Gwen Stacy is the daughter of slain police chief George Stacy.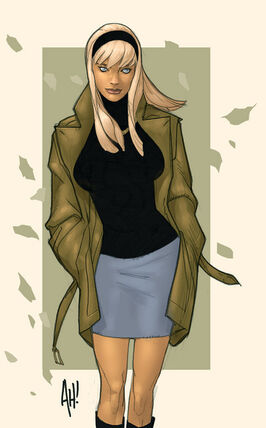 Daughter of George and Helen Stacy
Attended Empire State University where she met Peter Parker.
Over time, a romance developed between her and Peter; he was her first true love.
Almost as soon as their romance begins, it ends when Gwen witnesses Peter attacking her father.
Eventually, she learns that her father had been mind-controlled and had attacked Peter; they reconcile.
Her father was killed by falling debris in a battle between Spider-Man and Doc Ock.
Devastated, Gwen leaves for Europe to deal with her grief.
Gwen returns to New York, but everyone thinks she's dead. This is causing problems.
Gwen Stacy is a well-balanced, smart young woman. She is somewhat self conscious, at times, and can feel snubbed easily. However, she is not one to hold a grudge; she forgives and forgets as quickly and easily as she may feel slighted.
None
Science!: Gwen is a science major with a dedgree from Empire State University.
Modeling: A policeman's salary doesn't pay for college on its own; Gwen helped pay for her tuition with modeling gigs.
Fashion Sense: Mini-skirts and boots. Tres chic.
Screaming for Spider-Man: She gets in trouble a lot; this comes in handy.
Smarts: Forget the blonde jokes. Gwen's no bubble-headed blonde. She's got a brain in that pretty head of hers, and she knows how to use it. She does SCIENCE! for cryin' out loud.
Spider-Friend: Being a friend of Spidey -- even though she's not always been his biggest fan -- has come in handy on those times that she's been snatched by a bad guy.
Blonde Bombshell: Blonde, beautiful, and smart. Enough said.
Gets Kidnapped A Lot: It happens. You hang out with Spider-Man, maybe have a picture or two published in the Bugle and then WHAM! Every Spider-Villain is kidnapping you, hanging you off of tall buildings and bridges. That's basically Gwen's life.
Gephyrophobia: A fear of bridges.
Things Fallen From/Thrown Off Of/Held Hostage
| Structure | Count |
| --- | --- |
| Skyscraper | 1 |
Rescue Record
| Rescued By | Count |
| --- | --- |
| Spider-Man | 1 |
2010-08-25: Screaming Familiarity: Spider-Man takes on the Vulture, but gets a blast from the past during it.
Community content is available under
CC-BY-SA
unless otherwise noted.