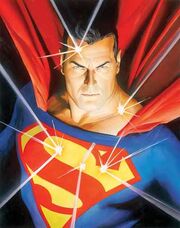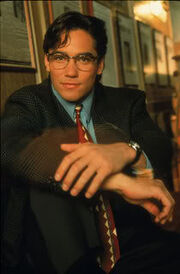 Superman
is a hero known to the world as a crusader for Truth and Justice. Known as
Kal-El
to those closest to the hero only, and as
Clark Kent
to others, he seeks to protect the world itself, no small task, while at the same time prove to himself that he can live amongst its people as a normal, everyday human.
Background
Edit
The Death of Krypton
Jor-El is ousted from the leadership of Krypton for contrary scientific views declaring the imminent death of Krypton's sun.
Jor-El discovers records of a small planet visited by his people many centuries before: Earth, including a vast storehouse of ancient Kryptonian lore.
Discovering his people are unable to leave Krypton now, due to long generations of cloning, Jor-El begins manipulating the genetics of his child, Kal-El, in the womb
Shortly before Kal-El's birth, the death throes of Krypton's sun began. Placing the premature child within a birthing matrix, Jor-El and Lara, his mother, send their child in the space-ready craft away from the planet and its imminent destruction to Earth.
Growing up in Smallville
Eventually, Kal-El landed on Earth, and was discovered and adopted by a young couple, John and Martha Kent
Under these two, Clark was raised to be a positive force for good, even as his powers and abilities began to show. It is from them he learned to become the "boy scout" he is common accused of being.
It was not until his senior year, however, on the eve of his eighteenth birthday, that John and Marsha revealed the birthing matrix he crashed in, which in turn taught him of his alien origins.
Upon revealing this to his closest friends, those who knew of his abilities, Clark was encouraged to begin using his powers to help more than just his close friends, but also those around him. Thus was born "The Blue Blur", a staple of Kansas news for the short period before he left to college.
It was also during this time that Clark began to see hints of the presence of Kryptonians in Earth's past, especially signs of those of the House of El.
Going to New York City
College was New York University, where Clark studied to be a journalist. He graduated Magna Cum Laude, and chose to work on his Masters abroad
For the next five years, Clark traveled the globe, writing for the occasional magazine and local newspapers (yes, even in other countries). He became well known for his ability to get inside areas others would have to be embedded to get into, almost magically.
Eventually, Clark made his way back to New York, seeking employment at the Daily Planet, where he felt he would have the greatest chance to know what was happening worldwide.
Through a bit of luck, Clark was able to land the job, initially placed under the tutelage of a headstrong, powerful female journalist who strongly disagreed with having to work with a partner. This woman? Lois Lane.
Six years have passed since then, with Clark making quite a name for himself, now being one of the most well-known male names in the business.
Becoming The Hero
Going back a few years, we look at Clark's college life. During this period, Clark was not inactive using his powers. The Blue Blur made his national debut here, Showing up in New York, and most of the Eastern Seaboard.
It was shortly after getting the job with the Daily Planet that "The Blue Blur" was captured on film, and was named "Superman" by the first reporter to get an interview with him: Lois Lane.
Since then, Superman has been a visible force for Good the world wide, in six years becoming a household name. In New York proper, even though several heroes call its streets home, Superman is one of the most common names you'll hear cried out to in times of need.
Superman's image has also become heavily commercialized, the result of efforts by Superman himself to curtail black-market sales of merchandise with his symbol. The proceeds are all used to help repair the city, which oftentimes feels the heavy hand of superhuman combat.
Modern Day
Today, still very little is known about Superman. The people know he is an alien, and that he is here to help, but due in no small part to general xenophobia and anti-mutant sentiment, he also finds himself at odds with many of the same people he seeks to save.
Four years ago, Superman was officially recognized by the United States President as a hero of the people, and given latitude to work with law enforcement agencies around the country and it's territories, as well as its military agencies by request. England and Canada soon fell into suit. To day, Mexico has declined similar requests.
In 2008, President Hundred asked Superman to join the Justice League. Superman agreed, with the express caveat that he would not be declared or ask to be its leader, or confine his actions purely to that of the League.
Personality
Edit
Boy Scout
Superman is a straight shooter. There is no gray areas with him. There is right and wrong. Legal and illegal. Good and evil. While he believes in the greater good of mankind, he shies away from those moral quandaries that often plague darker heroes. He will never take a life if there is any other choice. He will never endanger a civilian just to catch the villain. Only he will make the necessary sacrifice if it comes to it... because he must.
Fair Fighter
Because Superman perceives himself as being on such a higher level above human ability, he tends to approach any fight by matching the perceived capabilities of his foe. Punches will be pulled, powers will be held back -- anything to avoid overstepping the bounds of his personal code.
Team Player
Superman has a bad habit of not playing well with others. Specifically, he has a hard time trusting others to take care of aspects of a game plan, and will typically try to do things on his own. It takes quite a bit of effort to convince him that he needs the help of others.
Superman's powers are derived from a single source: his skin cells are able to absorb, store, and convert radiation from Earth's yellow sun into massive stores of energy, making him into a veritable powerhouse of abilities. The amount of energy Superman has available to him is directly related to the amount of solar energy his cells have absorbed, and have current access to. For the sake of brevity, his abilities focus on specific fields: Speed, Movement, Strength, Senses, Defensive, and Offensive.
Speed
Superman lives in a world that moves at far greater speed than most living beings, falling short in many ways only of those who rely on the Speed Force. Granted, in some ways this is limited by the very nature of Earth's atmosphere; going too fast runs the risk of igniting the atmosphere around him. For the sake of limits, Superman is able to fly, run, and swim at speeds just shy of Mach 7, although this is a significant effort. Outside of an atmosphere, his top speed is unknown. So far, his best time from Earth to Pluto has been seven hours (at its closest apogee... sunlight from the sun takes about four). He is also able to move and perceive the world around him at this same speed, meaning he can perceive the world around him at the same speeds as he can travel, and react accordingly.
Movement
Superman's body is capable of moving in ways that are not common to mankind. He can fly, his body able to withstand easily the stresses of such speeds, as well as the resistance of the air around him. He can also run and swim in this manner as well, moving his appendages at speeds that make it impossible for an average human to see them.
Strength
Superman is incredibly strong. Sure, there are those out there who can match him or even best him, but few can do it with the style of Superman. Be it stopping a runaway train with a single hand, carrying a space shuttle into orbit, pulling a sinking freighter out of the water, or the like, Superman can lift it. He has been known to move mountains, almost literally. Scientists at STARR Labs have yet to declare an upper limit to his strength, but it has been conjectured that, with help, he could likely cause a minor shift to the Earth's orbit if directly in the path of unfiltered solar radiation.
Senses
As a part of the improvements to his body afforded by his Kryptonian nature under Earth's sun, Superman is capable of incredible telescopic vision, able to see in detail an astronaut on the moon's surface from Earth's surface. He can hear at subsonic levels, able to hear and identify (if intimately familiar with the person) the heartbeat of others -- even when surrounded by decibel levels reached by large aircraft and rock concerts. He can also hear most radio bands, typically used to monitor police and fire emergency frequencies. He can see on other bandwidths as well, allowing him to see beyond the ultraviolet spectrum to a limited degree, as well as allowing an effective X-Ray vision capability. Finally, Superman has a finely-honed olfactory system, with a sense of smell and taste comparable to some of the most sensitive animals.
Defensive
Superman's body is comprised of radiation-soaked, densely packed cells, such that although it feels like skin, it is denser than most natural substances found on earth. Standard Earth projectile or melee weapons have almost no effect on him, and it has been conjectured that he could survive at the epicenter of a nuclear blast (although the effective term here is survive). He can be hurt, of course, and as his natural power reserves are depleted, this invulnerability fades. However, given more solar radiation, Superman is able to heal from injuries at up to ten times the natural rate (assuming he has continual access to sunlight).
Offensive
Finally, Superman has several offensive capabilities, aside from his strength. He is able to channel the solar radiation he as absorbed through his ocular nerves and out through the cornea, resulting in his trademark heat-vision. It's width and power can be controlled, from a beam so thin it's almost invisible, to a thick blast so powerful it actually delivers a kinetic push akin to his own punches. His lungs are no different, able to emit blasts of air so powerful they could freeze water instantly, or so weak they only ruffle the hair. Finally, his vocal chords are able to emit sound up to 125 decibels (although at these levels he's liable to cause hearing damage to those around him)
Investigative Journalism
As Clark Kent, Kal-El has received a Masters Degree in Journalism, earned at New York University, focusing on Investigative Research and Reporting. He has covered stories all over the world, and has one to date four Pulitzer Prizes - still several behind his closest rival. He is known for shocking attention to detail, and a very human touch on his reporting, often serving as the softer, good-cop sort when on assignment with other reporters in his field
Domestic
Clark was raised to be self-sufficient. He is a decent cook (with access to far more ingredients thanks to the ability to go to any country at the drop of a hat), a rather impressive dancer, but is relatively useless behind the wheel of anything but a pickup truck.
Farm Boy
Growing up on a farm, Clark has a rather impressive knowledge of horticulture, animal husbandry, an d all the rest that comes along with self-subsistence.
Brawler
Superman is not a ninja. He never will be. Heck, a good ninja could probably dance around him in a fair fight. His fighting skills are all self-taught; although recently he has begun studying meditation and body control techniques, he has specifically never learned the offensive or defensive styles of any martial art. His style is the style of the self-trained.
Kryptonian Lore
Only very recently has Kal-El gained access to the enigmatic Fortress of Solitude, but he has begun learning through its facilities the history of his people, and that which led to their downfall.
Languages
As a result of his eidetic memory, Superman has learned several languages, including Chinese, Korean, German, Russian, Japanese, and French. Although he is not fully proficient, he can definitely pass as close enough.
Salary
Clark Kent is a Pulitzer Prize-winning journalist, covering news across the globe. He makes a little bit of money. He's by no means rich, but he's finally broken the barrier into the lower half of six figures.
Eidetic Memory
As a result of his invulnerability, Superman's brain matter is never permanently damage and heals itself. As a result, memory is constantly restored, and is never overwritten.
The Fortress
Recently discovered while investigating a small inset capsule within the birthing matrix that brought Kal-El to earth, Superman was led to use the small device to manufacture a fortress deep within the ice floes of Antarctica, containing the whole repository of Kryptonian Lore that his parents were able to collect. Here he keeps those items he has collected over the years that needed sequestering away from the rest of the world.
The Apartment
Clark has upgraded recently to a upper-level condo on Park Avenue, with a nice, private, covered porch perfect for covert changes/flights into and out of the city.
Contacts
One doesn't rub elbows with world leaders, radical factions, and charitable companies without making a few friends. One also isn't a global hero without garnering a few favors here and there. Needless to say, if a specialist, political figure, or the like is needed, there's a 50-50 chance he knows one, or someone else who does.
Product Line
There is a thriving business in Superman merchandise. Originally, it was all through black-market or non-trademarked sales, but Clark worked out a deal with a highly reputable agent. The Superman crest, and anything set with his image or name, is sold through local companies he has set up to do so. All proceeds after cost are donated to agencies hired to repair damages caused by fights between super-powered beings.
Kryptonite
Simply put, metals from his home planet, known as Kryptonite, weaken, damage, and will eventually kill him if he is exposed to it too long. Direct contact significantly reduces the time of this process.
Magic
Superman has no defenses against magic. None. Magical weapons and spells act against him just like they would any normal human.
Secret Identity
Superman thrives on being Clark Kent -- the proof that he can be considered human. Take this away, and you strip away quite a bit of his entire identity.
Eating Habits
Oh, he's polite at the table, but let's be honest -- Clark expends a large amount of energy. Carbs and sugar tend to offset this. Thus, Clark has to buy large amounts of the sorts of food that someone who doesn't know him would think it very suspicious.
Additional Notes
Edit
Secret-Keepers
Superman has certain parties whom he has entrusted with his secrets. This list is here to prevent confusion. If you're not listed here, please contact Superman before assuming your alt knows anything about Clark.
Martian Manhunter: Has been established IC as to having full knowledge of Clark's heritage, secret identity, vulnerabilities, and origins. Has actually worked for the Kents.
Supergirl: Clearly, as a Kryptonian, she has an in on Clark's secrets. It's assumed she will through the course of RP and behind the scenes interaction know most of it.
Power Girl: Similar to Kara, but in her case some of the information may be off, or wrong. Call it knowing all the dirty laundry of another universe's Superman
Batman: At this point, ICly he has his suspicions about the Superman/Clark identities, and quite a bit of circumstantial evidence. He's not acted upon it yet.
JLA Members: Other than Bruce or Martian Manhunter, the knowledge/thoughts of other JLA members has not been ICly established yet. Currently assumed unknown at this point.
As for characters who have not yet been apped, the following has been ICly established:
Lois Lane: Does not ICly know that the two are the same, although there have certainly been close shaves. Is Clark's partner, and does her best to beat him to Superman exclusives.
Professor Hamilton of S.T.A.R.R. labs: Superman's personal physician. Knows Superman has an alter ego, but not who it is.
Lex Luthor: Does not know. Hates both men equally.
Logs Including Superman
Edit
Community content is available under
CC-BY-SA
unless otherwise noted.