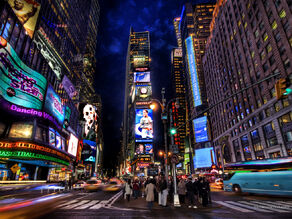 Times Square is known as the heart of Manhattan. The classic New Years Eve ball drop is set here, and celebrated by thousands in the streets. The classic "Kiss" that is synonymous with the victory of World War II (V-Day) also occured here. Today many companies can be found here here, such as MTV's TRL, Disney, and even The Discovery Channel has their own dedicated exhibit to visit.

It wasn't always the happening place to be in Manhattan. For many years, Times Square was considered near slums with prostitution, rampant crime and drug distribution, and peep shows littering every corner. It has since been revamped for many years now and is one of the safest places to visit. To many New Yorkers, Times Square is now considered a 'tourist trap' due to the overwhelming crowds of tourists that now flock here, but the streets are lined with many large companies that have their own store fronts, exhibits, and museums - such as Madame Tassaud. The streets along the outskirts of Times Square are lined with different Broadway theaters and shows. When night hits, Times Square truly comes to life with its vibrant lights and displays.
Scenes Set in Times Square
Edit
Community content is available under
CC-BY-SA
unless otherwise noted.